Uniting Hydraulic Presses and Automation
ROB BISBEE
Sr. Automations Engineer
Original Post: MetalForming Magazine May 2021
A manufacturer thinking about purchasing a hydraulic press or perhaps with one or several already in the fold likely has views of how the overall process should flow through the press or presses. This vision might include unfulfilled simple automation or a highly developed automated robotic turnkey cell, but the need to produce more high-quality parts repeatably is all too real.
But where to start? A press manufacturer with system integration capabilities can meet and exceed expectations by providing the press or presses with the right robust, fully integrated automation solution.
Why Press Automation?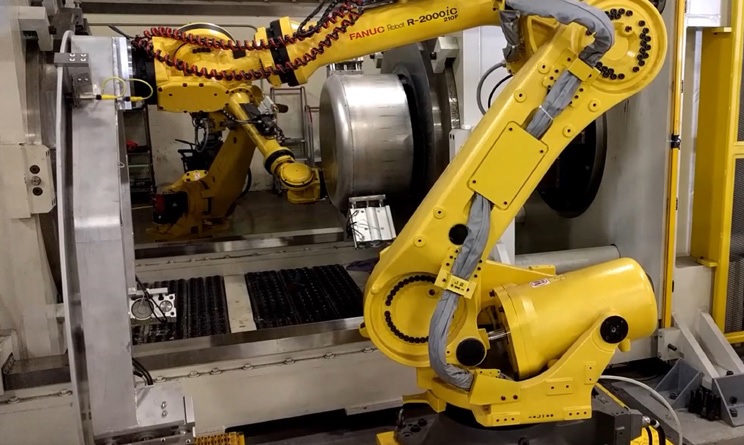 A part-handling robot with specialized end-of-arm tooling works to load and unload large parts into a hydraulic press. Here, the press manufacturer also served as designer and provider of the automation employed in this customized setup.
Ways and reasons to automate a hydraulic press range from the simple to the very complex. Examples include:
· Adding operator production indicators for proper part-loading feedback, adding stuck-part indicators and/or adding part-quality reporting
· Adding a press-controlled material feed
· Integrating a re-winder or scrap-removal system
· Adding automatic control of die loading and unloading
· Installing product transport conveyors/mechanisms to load and unload the press
· Installing load and/or unload robots, both large and small
· Installing collaborative robots (cobots) that work safely side-by-side with operators to perform more cumbersome or repetitive tasks without guarding
· Adding automated inspection systems that include sensors, lasers and cameras
· Pushing recipes (setup parameters) to a press from a remote production control system sometimes this includes pulling production data from a press to a remote data analyzer
· Integrating multiple presses in a fully automated workcell
· Designing and adding custom part-handling systems.
Benefits from such automation reach far and wide, while unlocking the full capabilities of the hydraulic press and optimizing production processes and labor. Benefits include:
· Increased throughput/decreased cycle times
· Reduced use of part material and less scrap
· Increased part quality and consistency
· Reduced production costs
· Ease of die and job changeover
· Metrics accuracy and visibility
· Freeing up of human resources for retasking within the organization
· Reliable and predicable production rates
· Increased floorspace utilization
· Reduced lead times
· Reduced or eliminated production bottlenecks
· Increased press-utilization rates.
Where to Start?
Press functionality resides at the core of such pressroom automation projects. Partnering with a press manufacturer with system integration experience and expertise, combined with a metal formers view of future process improvements, will lift the project and its incorporation of automation design to new levels.
What can an experienced press partner bring to a project?
The team and I had a fairly evolved view of how we wanted the overall process to flow, but what we lacked was the press-hydraulics knowledge and controls expertise to see it through, one metal former told us. Another credited the ability to apply our past experiences during an automation design/build project that ultimately improved the overall design of the cell.
Another option: Work with a generic automation house or systems integrator. While this may be beneficial for non-press projects, these sources may lack the specific product knowledge gained from years of working with hydraulic presses, tooling, dies and related product handling.
Not all third-party automation companies have worked with or even understand hydraulic presses and metal forming production, but most world-class press manufacturers have worked with and can deliver effective automation solutions.
Proper Approach for New-Press Automation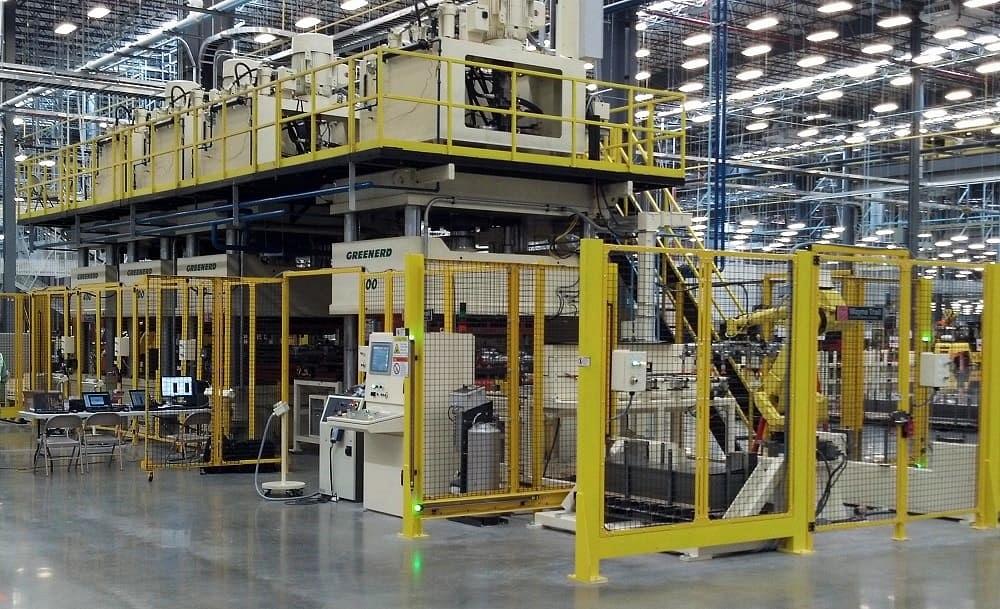 A press supplier/system integrator can deliver a wealth of expertise and experience that enables it to provide engineering support, design potential automation solutions, develop detailed floor-plan layouts and target achievable future cycle rates. Then, after line installation, its ability to provide onsite startup, and operator and maintenance training, is crucial for bringing an automation solution successfully into production.
A partnership is vital. As providers, we must understand a metal formers goals and then offer press solutions that not only meet, but often exceed, expectations. Working side-by-side as a partner enables us to become an extension of the metal former in a sense sharing/owning the same stated goals.
The challenge: Identify the right size for the automation solution addressing todays and tomorrows production needs while keeping within the project budget. This makes tailoring automation offerings to fit a range of applications very important. This holds true for everything from basic hydraulic-press automation, such as electrically integrating a material feeder with the press, to large multi-press, multi-robotic, autonomous workcells.
For example, we recently were approached to build a rotary automated cell. The metal formers stated goal: Purchase three separate presses then connect them with the framework and subsystems once onsite. We worked with the metal former to improve the press-line concepts and deliver all three press functions in a simplified working cell with a smaller footprint. After delivery and install, the metal former noted that cost analysis revealed better value in having a single source for design and build of the complete integrated solution. Doing so had simplified the operational side of capital-equipment purchases, which reduced the metal formers headaches and costs.
Automation Approaches for Existing Presses
A press manufacturer/system integrator can assist a metal former with one or more presses already in place by defining current and future automation needs. Automation may be a new concept and might challenge a metal former as to where to start, or what options and functionality are available for a particular application. In these cases, technical expertise from the supplier provides the key to moving projects in the right direction.
Metal formers may have many reasons to automate their hydraulic presses. Most of the time, it's not because a press runs slowly, but instead results from other factors, some of them surprising:
· Parts demand has increased beyond the capacity/capability of manual labor to keep pace.
· The geographic location of the metal former does not offer adequate or available personnel resources.
· Conditions require operators to staff other areas of the facility.
· Automating an underutilized press proves more cost-effective than purchasing another press.
· The metal former requires more consistent product quality and quantity.
· Personnel face difficulties in handling sharp-edged or hot parts, or delicate parts, or handling of such parts would place personnel at risk of injury.
Options to meet these challenges include providing engineering support, designing potential automation solutions, developing detailed floor-plan layouts and targeting achievable future cycle rates. Different pricing options exist for each. Then, after acceptance and installation, a press manufacturer/system integrator can provide onsite startup, and operator and maintenance training crucial to bringing the automation solution successfully into production.
Upstream and Downstream Opportunities
Opportunities exist for productive automation well beyond the hydraulic press itself. For example, we worked with a manufacturer to automate the repetitive loading and unloading of one of its presses and engineered a solution to integrate seamlessly into the existing press and work within limited floor space. However, the return on investment (ROI) fell short of the manufacturer's goals, so it reluctantly considered canceling the project.
Knowing that this manufacturer needed the automation in order to retain its product line, we asked if we could examine processes located upstream and downstream from the press. Careful study yielded solutions. Parts could be reoriented upstream to reduce transfer times. Also, one downstream process could be eliminated by expanding automation at the press to directly feed the next process.
Exploring upstream and downstream options resulted in elimination of product transfer and handling bins, and reduction in part transfer times and overall floor space. The solutions exceeded expectations and reduced ROI times to within required limits. The manufacturer ended up saving the product line and increased margins on each piece.
The manufacturer's key comment on the project: It was easier for us to relay the process intent than to create it internally.
This perfectly summarizes the effectiveness in working with a press manufacturer that also provides system integration.