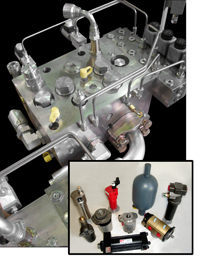 NASHUA, NH, U.S.A. - Today, Greenerd Press & Machine Company, Inc. announced the formation of Greenerd Hydraulics, a subsidiary of Greenerd Press & Machine Company. Greenerd Hydraulics will distribute components as well as provide power unit fabrication, field service and repair, controls engineering and custom manifold design.
"Hydraulics users, including Maintenance Managers and Plant Engineers, can count on Greenerd Hydraulics for quality components, systems and services for maintaining and upgrading their hydraulic systems," said Mr. Tim Dining, President, Greenerd Press & Machine Company. "With decades of power unit manufacturing experience and vast hydraulic applications expertise from parent company Greenerd Press & Machine, our new subsidiary is well positioned to serve its customers."
The newly formed Greenerd Hydraulics will focus on the following business areas:
Component Distribution: Offering a complete line of immediately available hydraulic components from respected manufacturers, with standard offerings including fixed displacement and variable displacement pumps, cylinders, linear actuators, rotary actuators, valves, filters, heat exchangers, instrumentation and accessory components.
Field Service & Repair: With a 100 year history of on site servicing of customer machinery, Greenerd is equipped and capable of quickly analyzing and solving many local production machinery problems on-site as well as providing factory-repair of hydraulic components.
System Design & Fabrication: With the expertise and knowledge that comes from building thousands of hydraulic presses, Greenerd is uniquely qualified to deliver proven, cost-effective hydraulic system solutions including: hydraulic power units, portable or permanently installed filtration systems for existing equipment, contamination analysis and control for hydraulic and lubrication systems, air cooled and water cooled heat exchangers, turnkey cooling systems and custom manifolds.
Controls & Automation: Locally providing single-axis or multi-axis closed or open-loop force, velocity / position control and automation engineering. Whether it's a turnkey machinery upgrade, retrofit, or an expansion project, Greenerd has the experience to deliver complete controls and automation solutions including engineering, installation and field start-up services.
"We are very excited about this new venture allowing us to focus on the in-depth hydraulics engineering and applications expertise at Greenerd and extend that knowledge to different segments of the industrial market," comments Rick Nutting, Product Manager, Greenerd Hydraulics. "From Maintenance Managers and Plant Engineers charged with keeping their systems up and running to OEMs building test equipment, machine tools, plastics, construction equipment and more, Greenerd Hydraulics will provide trusted, reliable systems and services."
Founded in New England in 1883, Greenerd has designed and built thousands of high-quality custom and standard hydraulic presses since 1934. Machines include an extensive line of Hydraulic Presses in all sizes and configurations. A complete line of Arbor Presses is also available. Greenerd Presses are made to withstand the rigors of around-the-clock production and deliver many years of service. Products are available as standard or can be designed for custom applications by expert engineers with extensive application experience.
For more information, contact Mr. Rick Nutting at Greenerd. Phone number 800-877-9110, x245, or email Rnutting@greenerd.com.