NASHUA, NH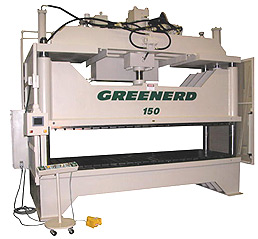 Greenerd, a high quality custom and standard hydraulic press builder, recently built and shipped a hydraulic press designed to form, blank and punch a variety of air conditioner parts for Rheem Manufacturing Air Conditioning Division of Fort Smith, Arkansas. Rheem, a leading innovator in the manufacturer of central heating and cooling products for worldwide distribution, replaced a mechanical press with the large-bed hydraulic press to improve productivity and enhance safety.
Larry Grant, Rheem manufacturing engineer, reported that, "Rheem found working with Greenerd a good experience. Their professionalism and keen interest in conforming to our stringent specifications and quality and performance requirements was very important to Rheem. They were also a great help to our understanding of the operational detail of the long-bed hydraulic press they supplied to us."
The 150 ton rated press features a 144" wide X 48" front-to-back bed and ram size with daylight of 24" and a stroke of 18", which significantly increases the manufacturer's production capacity and enables the operator to center load dies within the press. In addition, the 6" color touch-screen stores all press parameters for up to 150 programs for highly efficient operations.
Operational safety is also a very important feature of the new press. For example, the press features front and rear light guarding with blanking capabilities that allow the press to be run with a coil feeder. The press' rugged design incorporates impact dampening of the main ram at a snap thru for stability, and the large size bed ensures all operations are performed within the press frame for maximum safety.
"We took a look at the Rheem requirements and determined that output capacity and operator safety were the consumer's key needs," said Greenerd President, Tim Dining. "The new large-bed press not only increases their capacity and efficiency, but it also has excellent operating safety features."
Rheem Air Conditioning, a division of privately held Rheem Manufacturing Company, produces a full line of high quality residential and commercial heating and cooling products that are marketed worldwide. The Rheem Air Conditioning Division operates two, ISO 9002-certified manufacturing facilities in Milledgeville, Georgia, and in Fort Smith, Arkansas, where the press was delivered.
Founded in New England in 1883, Greenerd has designed and built thousands of high quality custom and standard hydraulic and arbor presses since 1934. Greenerd Presses are made to withstand the rigors of around-the-clock production and deliver many years of service. For more information contact Mr. Tim Dining, President & CEO of Greenerd, at 603-889-4101 x222, or email tdining@greenerd.com.