Case Study - Compression Molding
Stahlin Discovers Press Success Goes Well Beyond Design and Manufacturing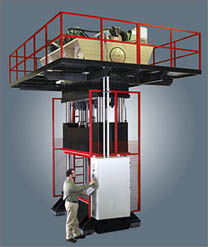 Several years ago production at Stahlin Non-Metallic Enclosures increased considerably. The market for electrical component enclosures was heating up and Stahlin was reaping the rewards. Stahlin began to outgrow their production capacity. Recently claiming its fourth-straight award as one of "West Michigan's 101 Best and Brightest Companies to Work For", Stahlin is equally as innovative when it comes to analyzing and finding solutions for their production challenges.
For over 60 years Stahlin Non-Metallic Enclosures has been solving unique customer requirements. Located in Belding, Michigan, Stahlin is owned by parent company Robroy Industries. Robroy Industries was founded in 1905 by Peter McIlroy and today is an organization of synergistic member companies dedicated to product and service leadership within specialty markets.
Stahlin produces fiberglass composite products for electrical systems. The electrical enclosures are sold to industrial electrical markets and OEMs that need to house electronic or electrical components within their products. Stahlin's 115 employees operate a 100,000 square-foot plant that runs three eight-hour shifts, six days a week to provide an extensive in-stock line of non-metallic enclosures and accessories.
The manufacturing plant was originally outfitted with eight compression molding presses designed to mold enclosures. They also have CNC cutting equipment, automated light assembly machines, a compounding facility which makes the compounds required for their manufactured parts, and an automatic gasket-dispensing cell. The equipment is used to manufacture all the necessary parts and then assemble them into UL recognized electrical enclosures.
At Maximum Capacity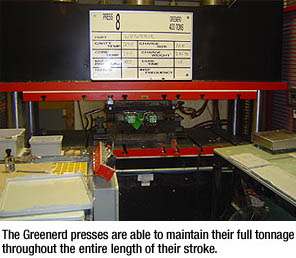 When the company entered a growth cycle a few years ago - a cycle that is expected to continue - they found their molding equipment was running at maximum capacity. Stahlin strategically evaluated the situation and determined they needed to acquire two new presses. But more than just an equipment vendor, they were looking for a true partner - someone who could understand their technical needs and who they could trust to lead them down the right path, taking into consideration any future growth.
Jeff Seagle, President of Stahlin Non-Metallic Enclosures, states, "The team at Stahlin is constantly looking for ways to improve our capabilities for our customers. We decided that making the large capital investment for two new presses to address our new capacity needs would help us improve party quality, reduce scrap, and continue to provide customers with the high quality and cost effective enclosures they want from their manufacturer. So we started to evaluate and identify compression molding press makers."
Important considerations for choosing a partner included a vendor who could provide them exceptional uptime and reliability. In their business, cycle times are dictated by the materials in use more than the press capability itself. The material used is thermoset and long cycle times of approximately three- to four minutes are necessary in order for the material to cure properly. The material is then compressed into shape with tools that are heated to 350 degrees and pressurized.
The manufacturing plant environment is demanding. It is not uncommon for temperatures to reach 120 degrees in the summer. Dies and tools are heated to 350 degrees and the atmosphere can create a dusty and grimy setting. Then take into account that the parts that are being manufactured weigh approximately thirty- to forty pounds and you begin to get a sense of some of the challenges Stahlin faces.
Picking a True Partner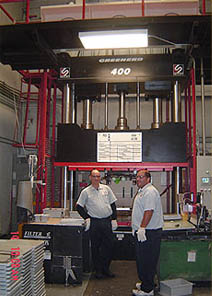 They did not take the task of purchasing new presses lightly. Over the course of three or four months, Stahlin had many discussions and site visits during which they evaluated different vendors. They have had compression molding presses for years, but never had a Greenerd press. They were impressed by Greenerd's personal commitment. Greenerd's team included President Tim Dining who attended their meetings himself. While Stahlin felt the press itself would meet their requirements, what won them over was Greenerd's commitment to understanding and addressing all of their design concerns - from potential oil leaks to how they tool and take parts out of the press. Greenerd listened and then proactively custom designed a press to solve Stahlin's specific issues.
"Our business has grown significantly over the past five years and we project continued growth for many years to come," says Seagle. "Compression molding is at the heart of our operation and when we needed to look for new equipment to address our capacity demands, we looked for a partner that could not only supply reliable presses but also continued support as we grow."
Greenerd's Custom Solution
Stahlin decided to purchase two Greenerd compression molding presses in 2007. The Greenerd 400 ton Hydraulic presses have significantly improved Stahlin's production capabilities, providing increased flexibility among numerous reasons because of their large tonnage and bed size. These new machine are capable of running 90% of all Stahlin molding tools, and are more ergonomic to operate because the need for operators to physically reach and bend for each enclosure molded is reduced.
"The Greenerd ram is much smoother and quieter than other presses. It comes down in a nice transition which will translate into fewer downtime/repair situations," says Stahlin press operator Chuck Edmonds. "The safety features such as their light curtains are also better than other presses. The bed of the press is also a lot lower, so it's much easier to load and unload parts, which means it's easier on the back and there's less chance of injury. The presses' cleaner, more open design also greatly reduces our burn instance because we are less likely to hit other objects in the die area."
Greenerd's compression molding series features their proven 4 Post design, which minimizes deflection and ensures exceptional and consistent die alignment. It also enables loading of the press from any of four sides and permits easy integration into production lines or manufacturing cells.
The Greenerd presses feature a unique wide and shallow bed and press controls that let the operator easily adjust press tonnage ranges, which allows Stahlin to run a wider variety of molds and provides greater production flexibility. In addition, the presses deliver the ability to consistently make better parts with less scrap. "Adjusting the press speed is so easy with Greenerd's press controls versus the old manually controlled hydraulic presses that required mechanical adjustment," comments Dean Childs, Composites Supervisor.
All Greenerd presses are ANSI B11R.2-1995 R-2000 compliant for maximum operator safety and productivity. Their compression molding presses feature a unique de-gassing cycle to evacuate gasses from the mold while the part is curing; this relieves pressure inside the mold and ensures the highest part quality.
In addition, a touch screen operator panel allows hundreds of programs to be stored in the press control. This enables the press operator to change programs in just seconds and ensures that parts are produced precisely the same way each time they are run.
Each new press that Stahlin purchased also includes a die lift for faster set-ups, which helps the operators to quickly change dies and also eliminates the job of setting the stroke. The new hydraulic presses are able to maintain their full tonnage throughout the entire length of their stroke with no need to determine the exact location of maximum tonnage. The machines have increased the safety for the operators with light curtains installed in the front and back of the machines.
"The presses are easier to set up because of the computer controls - they're newer and more user friendly than traditional manual limits controlled hydraulic presses," says Art Ring, Jr., Stahlin press operator. "We've had fewer problems like pre-gel, a condition that produces a bad finish and makes the part look dull and often leads to scrapping the part. Greenerd presses have significantly increased the number of good parts we are producing."
Better Quality, Less Scrap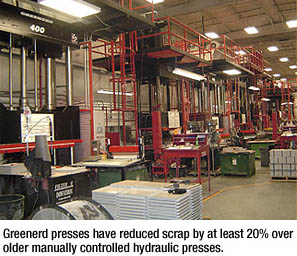 According to Childs, pressing is a delicate balance of speed and control. If you don't press fast enough, the material can start to cure. If you press too fast, the paste runs out to the edge with excess resin and the fiberglass isn't carried out to the edge of the mold like it should be. Either way, the part is scrap.
"We've gotten much better quality control results with the Greenerd presses and have reduced scrap on those presses by at least 20% over the older manually controlled hydraulic presses we were using," comments Childs. "The Greenerd presses allow you to precisely control the ram speed and the transition to press mode when it meets the material. The manual hydraulic presses with their mechanical limits adjustment required much more trial and error to achieve optimum speed and control."
Better press control means increased quality and greater reliability for Stahlin. For instance, they were running a premium quality, diamond shield cover mold for a customer and were on a very tight deadline. They knew they could get better control on the Greenerd presses, which would translate into better quality parts and more efficient production. So they pulled the job off a manually controlled press and put it on a Greenerd press in order to meet their deadline. "The timeline was critical on this job and we needed the most quality parts in the least amount of time in order to get them gasketed and through the other finishing operations to complete the job on time," explains Childs. "We needed the reliability of the Greenerd press to have the confidence that we'd meet our deadline." And the job was a success.
A Successful Collaboration
Things are running smoothly at Stahlin these days. The two new Greenerd presses have provided improved productivity, the most current technology, and most importantly, better quality parts.
"We believe the Greenerd press is designed for the long run with more uptime than our other presses. The machines have expanded our capacity and have delivered good, reliable performance with no major issues. And not only are the presses working well, their design is exquisite. We call them our 'sexy presses'," comments Seagle. "We're very pleased with Greenerd's support through the acquisition, installation and follow-up processes. Greenerd has met the challenge and has not only provided great presses, but a relationship that fits well with our company culture. We feel we have a true partner."