Showroom - 100 Ton Capacity Hydraulic Plate/Weldment Straightening Press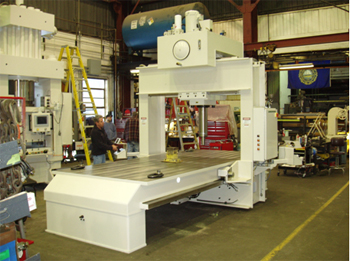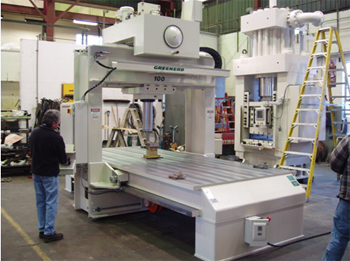 Application:
This customer produces weldments for the military. The weldments very often require straightening after the welding process to eliminate any distortion caused by the excessive heat required to weld. They also required that the weldments be loaded from overhead by a crane. Due to this requirement, Greenerd built them a Gantry style press that provided them with the ability to move the Main Ram and Gantry to one end of the press bed for loading and unloading. They then simply (by way of Joystick Controls) moved the Gantry over the weldment and then the Main Ram over the area on the weldment to be straightened.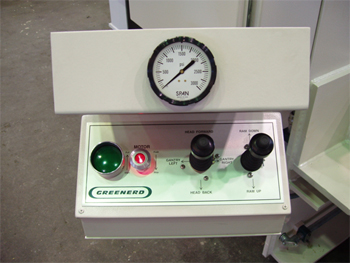 The controls were duplicated for both sides of the press so that the operator could run the press from the most convenient position for them. The Controls also swiveled on an arm allowing for the operator to be able to view the work from either side of the Gantry Upright.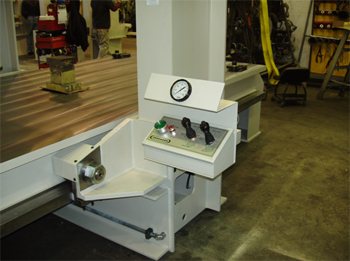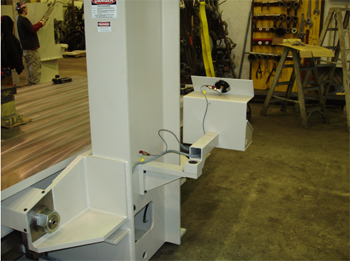 Press Specifications:
SPECIFICATION FOR PRESS MODEL HCS-100-TH-12R3
Hydraulic Work-head:
Tonnage
Adjustable to 5 to 100 tons
Cylinder Work-head
Gantry Mounted
Useable Bed Length
96"
Useable Width of Bed
48"
Height of Bed
34"
Head Travel
8 feet
Daylight
36"
Stroke
Adjustable to 36"
Traverse on work-head (24" either side of centerline)
48"
Control Station – Mounted on the front of the press. Joystick and Single hand control was provided for stroking the Ram down and up. Press will have a jog mode and Run mode. The operator controls all Ram movements.
Traveling head movement both traverse and cross travel with the main cylinder in the extended position.
Power Trak for the electrical line.
Equipment nameplates.
Allen-Bradley Micro-Logix 1000 programmable controller.
HYDRAULIC FEATURES
Location of Hydraulic Power Unit: Gantry mounted.
Pump: High performance pumps for quiet, smooth, long lasting operation.
Pump Flange: Welded steel pump flange couples electric motor and pump. Insures perfect alignment, dampens vibration, and reduces noise.
Packing: Long life, replaceable without disassembly of major machine components.
Oil Reservoir: Fluid level sight gauge, tank filler/breather cap with safety strainer included.
Hydraulic Circuit:
Main Cylinder Bore
10"
Main Ram Diameter
7"
Hydraulic Pumps: 12 GPM with 3 GPM for rapid advance and rapid retract of main ram.
Speeds:
Rapid Close
90 IPM
Variable pressing up to
9 IPM
Rapid Open
87 IPM
Maximum System Pressure
2546 PSI
Motor: 230/460V, 3 Ph, 60 Hz
5 HP
ELECTRICAL
Main Control Cabinet: Nema 12 Enclosure, combination starter with fusible disconnect and built-in transformer for step-down to 110 volt control circuit. Conforms to OSHA and eliminates extra wiring for separate control circuit.

Electrics arranged for 230/460 volt, 3 phase, 60 cycle operation.

Documentation: (3) Copies of operating manuals and maintenance manuals (including wiring & hydraulic diagrams) was supplied with the press.

Electronic "Joystick" Ram Control: Joystick provides control of ram travel and ram force. Free hand must actuate and hold a palm button for joystick to be activated, per OSHA Regulations. Pushing the joystick forward starts downward movement of the ram. A separate limiting control can be adjusted to pre-set a maximum force available at the ram. Release of either the joystick or the palm button returns the ram to its up limit position.
Construction:
The press was built with a Gantry that rides on rollers allowing it to move in the left to right direction. The Main Ram was also built to ride on rollers allowing it to move front to back. A separate Joystick control was used to move the Main Ram down and up for the press cycle. All movements are operator controlled.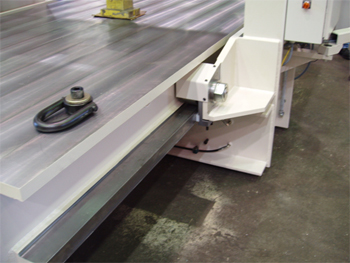 Roller Assembly for Moving Gantry.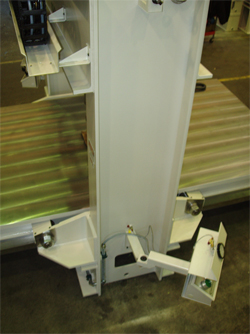 Overhead view of Roller Assemblies for Moving Gantry. Also shows Rotating Operator Control Station.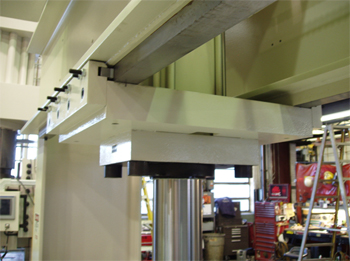 Moving Ram Guides.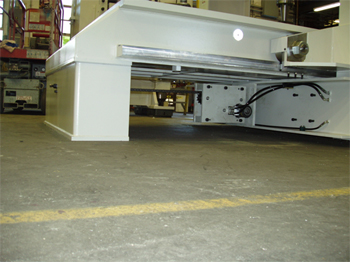 Chain Drive with Hydraulic Motor for Moving Gantry.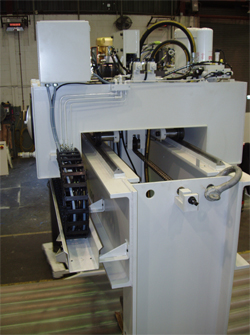 Moving Ram Upper Drive Assembly.
To see a short video of this press in operation, please click on the link below:
http://www.youtube.com/watch?v=14NjKuL3OGk