Showroom - Compacting
COMPACTING ABRASIVE POWDER INTO GRINDING WHEELS
SPECIFICATIONS FOR MODEL NO. HCA-30-30R8
| | |
| --- | --- |
| Tons of Ram Force | adjustable from 6 to 30 |
| Table Dimensions | 24" L-R x 13" F-B |
| Throat | 10" |
| Daylight (maximum open distance) | 18" |
| Stroke | adjustable from 1" to maximum 12" |
| Floor to Table | 47" |
| Press Size | 24" L-R x 50" F-B x 104" Tall |
| Pump Capacity | 30 GPM & 8 GPM |
| Cylinder Bore | 5" |
| Ram Diameter | 3 1/2" |
| Ram Speed: Close, inches per minute | 912 |
| Ram Speed: Press, inches per minute | 80 |
| Ram Speed: Open, inches per minute | 876 |
| Maximum System Pressure | 3055 |
| Oil Reservoir Capacity | 95 Gallons |
| Motor | 20 HP, 1200 RPM |
| Weight, approximate lbs | 5,200 |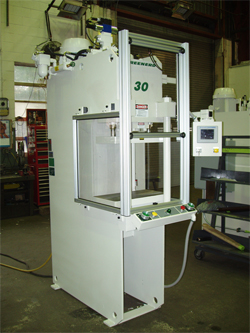 Application:
Customer produces Grinding Wheels of various sizes. Process involved precisely weighing the correct amount of powder and to pour the powder into a small Female Die. The upper Male Punch would then move down at a high rate of speed until the Male Punch entered into the Female portion. At that time, the Press Ram would slow down to compact the powder into its final form.
This application required the Main Ram of the press to be able to compress to a specific height, which was held to +/- 0.001" of an inch every stroke. This was done through our Touchscreen control which enabled the customer to program the parameters for a number of different grinding wheel nomenclatures and the ability to save them in the control for future production runs.
The tooling was made from Carbide and therefore had the ability to shatter. Greenerd designed and built the Pneumatic Gate and Side Guards to prevent any injuries to the operator or anyone working near the press from the potential of flying particles should the tooling fail.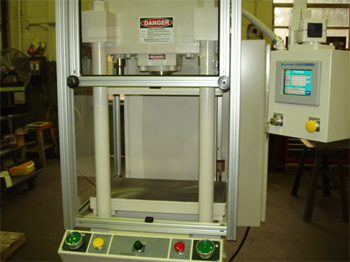 Features:
Deflection: We used a Tie-rod and Spacer setup on the front of the press to minimize the deflection caused when pressure is applied to the part. This Tie-rod setup did not eliminate the entire Yawn of the press but decreased it considerably. Spacing between the Tie-rods was 15".
Work Area Enclosure: Provided an interlocked guard with a pneumatically controlled front access gate. Upon initiation of Dual Palm Buttons, the gate would close and sent a signal to the press to cycle when switch is met showing that gate is completely down. The guard is constructed from Aluminum extrusions and Polycarbonate glass and completely encloses the work area. Large polycarbonate windows are fitted to the front and both sides of the guard.
Closed Loop Position Control System: This system allows for a repeatable accuracy of +/- 0.001" and adjustable pressing speed from 10% to 100% of full speed. We provided a proportional directional valve, digital linear transducer and a 10-micron pressure line filter.
Electronic Press Control: A powerful, compact control for digital control over press functions. Simple, user-friendly system, with keypad or touch screen entry of control functions and set-up parameters. Closed Loop Pressure Control compensates for temperature variation. Includes the operator interface and enclosure, fixed pendant mounting to the head of the press, linear transducer, pressure transducer, extra PLC capacity, and an electronic relief valve.
With the base electronic press control:

Set Digital Top Stop, Slow Down, and Bottom Stop stroke positions. All dimensions were in Metric Units per customer request.
Set Digital Pressure (Tonnage) set points. Tonnage set point to be in English Units per customer request.
Counters: non resettable press stroke counter, resettable stroke counter and batch counter
Dwell timer, allows adjustable pressure dwells up to 10 minutes.
Trend display for Tonnage and Reversal Position; view the last ten (10) cycles.
Cycle rate displayed in cycles per minute.
Recipe storage. Stores set-ups for up to 70 recipes on board. Speeds press setup.
Diagnostic capability. All PLC I/O points can be monitored on the screen.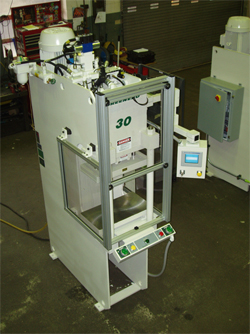 To see a video of this press running, please press "Play" below.