Search Hydraulic Presses By:


---

Search Arbor Presses By:


Model Number: No. 4, - 7 Ton, Adjustable Knee
Floor press arbor press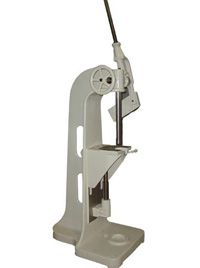 Nashua NH. Greenerd offers a hand-operated Arbor Press that delivers 7 tons of force, and has an elevating knee that can be adjusted to provide up to 31" of daylight. The #4 Arbor Press, shown here, is lever-ratchet operated. It is also available as pilot wheel operated, which provides rapid ram travel. The removable plate has 4 u-slots from 1 3/8" wide to 3" wide.
Back to Arbor Presses