Application: Automotive
A manufacturer that forms carpeting panels for several automotive companies approached Greenerd with an unusual request. The process they use to form their carpet panels is as follows: The carpeting is heated in an oven at a high temperature to make it pliable. The carpeting is then placed on a chilled mold on the press. Then the Moving Platen of the press comes down to apply pressure until the carpet is cooled sufficiently to hold its specified shape. They requested that Greenerd design a large press with minimal tonnage requirement and NO bed. The customer intended to use the bottom half of the mold as the bed of the press. We recommended our Gantry Style of press.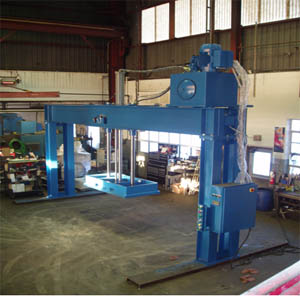 SPECIFICATIONS FOR MODEL # HCS-30-240-30R8:
Press forming capacity
Adjustable from 5 - 30 tons
Daylight
100-3/4"
Stroke
60"
Moving Platen Size
72" x 36"
Work Area L-R between Uprights
240"
Ram Speeds:
Rapid Advance
912 IPM (Inches Per Minute)
Pressing
94 IPM
Rapid Return
877 IPM
Reservoir Capacity
100 Gallons
The press features a two-line display for inputting the Stroke Length and the Tonnage Requirement. The press also provides a Safety Ram Lock System (as seen below) to prevent a freefall of the Main Ram in the event of a catastrophic failure in the hydraulic system. The clamp is capable of holding the Moving Platen and up to a 6,000 lb tool.
The customer supplied the bottom half of one of their molds to function as the bed of the press. This allows them to quickly and easily change out the tooling for the different carpet configurations.
The frame of the press is anchored to two large slabs of concrete. Each slab of concrete weighs approximately 20 tons to ensure the frame will not lift up when applying the downward pressure on the carpeting. The power unit for the press is located on top of the frame to reduce floor space.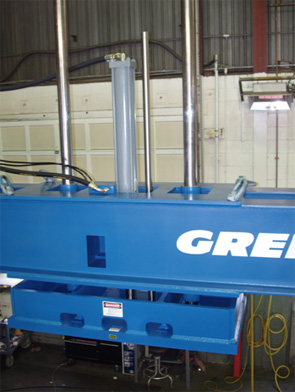 The press also provides some unique safety features with operator controls that are mounted on the columns and Floor Scanners positioned on the floor to prevent anyone from being in the work zone when a cycle is initiated. The floor scanners are programmable to allow the customer to designate the "protected" areas and they scan the sides, front and back of the mold on the floor.
For application assistance on your project, please don't hesitate to contact Greenerd at www.greenerd.com or feel free to call us at 1-800-877-9110. We can help you find a solution to your problem.