Search Hydraulic Presses By:


---

Search Arbor Presses By:


Compressing Transformer Coils
Specifications:
The press is a 100-ton capacity
Work Area: Left to Right between posts
18"
Oversized Four Post Guided Platen and Bed
Die Lift Rails – Bed Mounted
Pneumatic Cylinder – Throat Mounted
Hydraulic Circuit – 75R7
Motor HP - 20
Bed size
72" x 60"
Daylight
70"
Stroke
50"
Manually set Pressure Control and distance control with Proximity Switches
Speeds:
Rapid Advance
492 IPM
Press
21 IPM
Rapid Open
473 IPM
Height x Width x Length
180" x 74" x 121"
Weight
49,400 lbs.
Transformer with Coils for Three Phase Operation: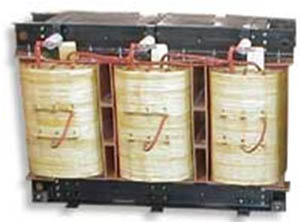 The application involves compressing large coils that are subsequently varnished and cured in an oven.

They will be moving uncured coils into the press from the left or right side on a conveyor. Please note that we have supplied Die Lift Rails in the table of the press. They will then initiate the press cycle to compress the coil under a specific tonnage and will dwell at tonnage while the Fixture holding the coil is manually tightened to maintain the pressure on the coil assembly when the press Ram returns up. Take note of one of our assemblers on the floor sweeping. He is 6' 2" tall. This is a very tall press that was required to meet our customers' application.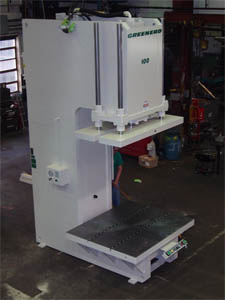 After Compressing the Coil and then tightening up the nuts on the fixture to keep the pressure, we have a Pneumatic cylinder in the throat of the press to push the compressed coil off the front of the bed onto another conveyor to go on for further processing.



Features of the press:

Die Lift Rails – Bed Mounted: Note the Red Knob for the Die Lift Rail actuation. Power unit for Die Lift Rails is mounted on the side frame of the press.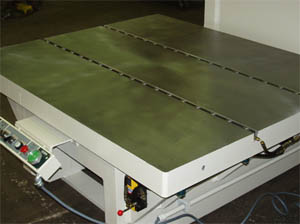 Pneumatic Throat Mounted Cylinder: This cylinder has a 64" stroke and requires 90 psi to operate. The operator will manually actuate the cylinder after the compression portion of the cycle is completed.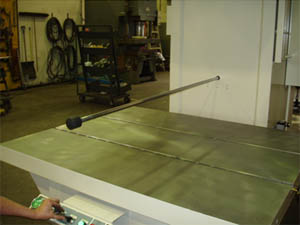 Rear view of Throat Mounted Cylinder: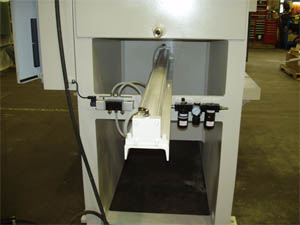 With the Throat Mounted Cylinder, we needed to raise the hydraulic tank above this height. Please also note the cleanliness of the hydraulics. We work very hard to minimize the amount of plumbing that we need on each press. The Manifold assembly below provides for most of this plumbing reduction.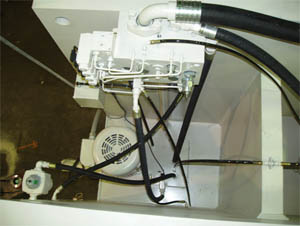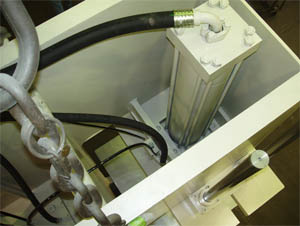 If you have any requests for quote that you aren't sure whether we would be able to quote on or not, please call Mike Moran or Tom Lavoie and we can discuss how to meet your customers application needs.