Search Hydraulic Presses By:


---

Search Arbor Presses By:



Sep 01, 2019
Precise Quality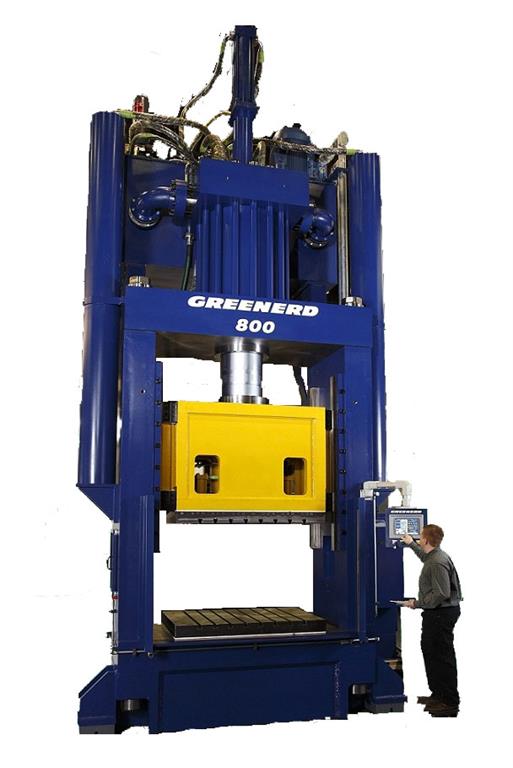 By Lauren Duensing, FF Journal Sept 19'
Original Post

September 2019 - Buyers of hydraulic presses want automated features that boost productivity and safety, says Jerry Letendre, CEO, Greenerd Press & Machine Co.

Q: What end-use industries are driving growth in hydraulic press sales?

A: Greenerd has experienced significant increases in demand across the board, particularly from the medical device, automotive, aerospace, defense and mining industries. We're seeing greater interest in turnkey applications for transfer lines, deep draw and forging machinery. In these applications, technology is making the greatest strides in repeatability and higher production rates, which justifies new installations.

Q: How do quality requirements affect the design and build of custom equipment?

A: Stringent specifications require that equipment manufacturers be able to build high-quality, robust machines with more advanced control methods to achieve precise positional accuracy and stroke repeatability. We are also implementing intelligent use of sensor data and detailed process monitoring; customizable stroke profiles to vary speed and power throughout the cycle; and automation (feeders, robotic product handling systems) to increase throughput and quality/repeatability. Customers in the aerospace and medical/pharmaceutical industries also require serialized production documentation and process data for compliance reports.

Q: How are hydraulic presses evolving, and what role does automation play?

A: Manufacturers demand that automation boost labor productivity and safety performance, alongside a more integrated offering to reduce project execution complexity. Greenerd is seeing a significant increase in demand for automated and fully integrated press lines. The scope can include the following: • Simple raw material feeding systems
• Robotic solutions for loading/unloading, performing optional secondary part manipulation, automated inspection and stacking finished parts
• Part inspection systems
• Temperature monitoring and control of press and non-press related systems
• Streaming critical production data to and from the press.
Automated and fully integrated press builds are being driven by the desire for higher production rates, ergonomic concerns on larger pieces and labor shortages. The range of part sizes is from ounces to hundreds of pounds, but new systems make it easier than ever to reconfigure for daily production changes. To further drive productivity and automation, Greenerd builds in safety features that constantly monitor critical parameters to ensure the line is running efficiently. If a problem should occur, notices or warnings can be pushed out directly and in real time via email, text or apps.

Q: Explain the scope of your New Hampshire expansion and how it benefits customers.

A: We broadened and deepened our capabilities, including increased machining capacity for very large press components, 100 percent in-house engineering of press components and subsystems, and design and programming of all controls. We also substantially increased our capacity to build larger, higher tonnage and taller presses, including those with significant below-floor press structures. Customers will see reduced lead times from order to installation, and we are better able to respond to any changes in requirements—even those that arise after press building has begun.

Q: You were appointed to the National Association of Manufacturers board of directors. Please describe NAM's functions.

A: NAM provides a platform for manufacturers of all sizes to address issues important to the growth of domestic manufacturing and help the next generation learn about and become interested in manufacturing. The NAM board comprises more than 200 executives, representing large and small companies across all manufacturing sectors. It provides national and global perspectives on the impact of federal government action on companies' ability to grow and prosper and contributes leadership and expertise to NAM's policy development process. NAM is the leading advocate for a policy agenda that helps manufacturers compete in the global economy and create jobs at home. FFJ

Jerry Letendre has been CEO of hydraulic press builder Greenerd Press & Machine Co. since 2014. Before that, he held senior executive positions in several multinational companies, working in North America, Europe, Asia-Pacific and the Middle East. He spent half his career with General Electric Co.