NASHUA, NH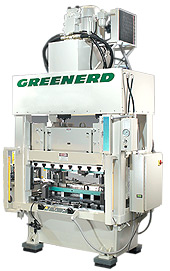 Today Greenerd has introduced their line of Model GG Four-Column Hydraulic Presses that offer manufacturers setup flexibility due to a large feed window, structural rigidity, slide accuracy and long die life through an eight-point gib-guided design. Presses can be built to specification from 30 tons to as high as 2,000 tons with a wide range of bed sizes and up to 150 strokes per minute, depending on press capacity.
Greenerd's eight-point gib-guided slide easily withstands the demands of high-speed stamping with large dies and progressive dies requiring off-center loading. Gibs are extra long and square at four tubular corners, which provide more accurate slide guiding and offer front-to-rear and side-to-side adjustment to maintain slide parallelism to the bed. For example, with gib-guided slides, parallelism is ± 0.002" over the entire bed of the 48" x 36" model under full load.
In addition, press deflection is minimized due to Finite Element Analysis of weldments and major structural components of the press. Also, the Gibs are hardened steel and designed with maximum bearing contact for long life.
"We took a close look at user needs and decided that a press design having a large, open feed window with more daylight, increased stroke and access to the die and bed would provide greater versatility" said Greenerd President Tim Dining. "When combining this with eight-point gibbing via all corners, customers have a flexible, cost-effective solution in a rigid, compact machine."
Because the frame and slide design provides an exceptionally stable and parallel platform for mounting large dies, Greenerd's GG presses offer longer die life. A large, T-slotted bed makes it easy to install quick-change die equipment. Graphite-impregnated bronze bearing strips are longer for maximum slide contact and excellent wear resistance. A split-collar ram connection assures precise alignment after gib adjustment. Precise leveling is achieved with an easily adjusted slide and bolster.
Although the presses are capable of heavy tonnage, the footprint is reduced as much as possible to save valuable manufacturing space and the open window design requires less customization for the users' application, making them more compact, versatile and affordable.
Greenerd Presses are available as standard machines or can be designed for custom applications by expert engineers with extensive application experience. For more information contact Mr. Tom Lavoie, Applications Engineering Manager at Greenerd. Phone number 800-877-9110, x 251 or email tlavoie@greenerd.com.
Founded in New England in 1883, Greenerd has designed and built thousands of high quality custom and standard hydraulic presses since 1934. Machines include a very extensive line of Hydraulic Presses in all sizes and configurations. A complete line of Arbor Presses are also available. Greenerd Presses are made to withstand the rigors of around-the-clock production and deliver many years of service.