Users can conveniently access critical press data anywhere, 24 x 7, saving time, money and product.
NASHUA, NH U.S.A.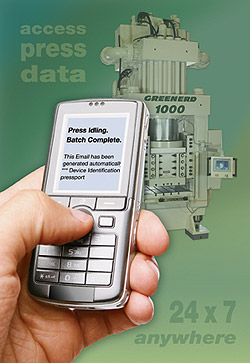 Today, Greenerd Press & Machine Company, Inc. announced the introduction of pressport private online network for Greenerd Hydraulic Press users. Greenerd pressport allows customers to obtain a real-time status of their press operations by logging in and viewing data from their presses via an Ethernet connection over a secure VPN network, and also receive status / alarm notifications on their internet enabled device such as a cellular phone, smart phone or PC. The pressport technology allows manufacturers to respond immediately to any problems with the manufacturing process, saving substantial time and costs.
An Alarm Management feature sends instant text messages / email notifications to mobile phones, PDA devices and computers if an operation occurs "outside" the PLC (Programmable Logic Controller) variables. Notifications may include cycle and batch completions, clogged filters etc. In addition, a "hot" button allows operators to send an alert directly into a Greenerd Engineer for 24 x 7 critical assistance.
"The new pressport technology offers our customers a highly efficient way to manage their press operations while they are away from their shops just like they would if they were in-house," said Mr. Tim Dining, President, Greenerd Press & Machine Company. "Not only will it provide them with up-to-date press operation information, but it will alert them to any problems so that they can quickly manage the situation without delay. This translates into real cost and time savings, minimizing downtime, and service calls while improving productivity."
Mr. Tom Lavoie, Applications Manager, Greenerd Press & Machine Company continues, "For example, if a Plant Manager is away from the shop and his operators are running a 400 part job, pressport allows the manager to access the job's status, like whether a motor is idle, off or running, from any computer or handheld device that has Internet access. And should an interruption occur, he will instantly receive a text message on his mobile phone or PDA and then respond immediately to the disruption."
Greenerd pressport offers several features to increase productivity and ultimately improve the bottom line. Remote Access functionality allows connectivity to the PLC and other devices with the same control as being on-site. The FTP feature offers the ability to send and receive data from pressport and customize the data structure.
Web HMI (Human Machine Interface) allows users to view animated screens or tabular data through a standard web browser interface (ie. Internet Explorer). Through Web HMI, users can view maintenance reports, production data, and other critical sensor data. Data logging, reporting and trending features can also be accessed from an internal database. In addition, users can program custom reports based on the information they need.
The pressport technology can easily be added to an existing Greenerd Press or can be configured when the press is built.
Founded in New England in 1883, Greenerd has designed and built thousands of high-quality custom and standard hydraulic presses since 1934. Machines include an extensive line of Hydraulic Presses in all sizes and configurations. A complete line of Arbor Presses is also available. Greenerd Presses are made to withstand the rigors of around-the-clock production and deliver many years of service.
Greenerd Presses are available as standard machines or can be designed for custom applications by expert engineers with extensive application experience. For more information, contact Mr. Tom Lavoie at Greenerd. Phone number 800-877-9110, x 251, or e-mail tlavoie@greenerd.com.