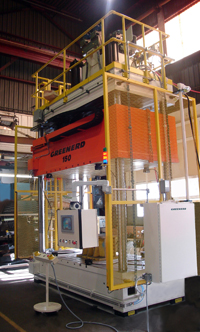 NASHUA, NH – Greenerd Press & Machine Company, Inc. announced today that they recently designed and built large-bed 150-ton capacity hydraulic presses used in automotive industry applications. The presses are designed for Pinch Trimming of automotive acoustical panels and carpeting for increased capacity, efficiency and safety.

Featuring large 110" x 60" beds and platens, the presses offer 72" of daylight and an adjustable stroke of up to 56". The rugged, heavy-duty presses weigh approximately 68,000 pounds and are built to stand up to the rigors of three-shift manufacturing with just minor routine maintenance. Despite the large capacity of the presses, they were designed in a compact 196" x 118" x 234" footprint in order to save valuable manufacturing space.

"With a custom-designed hydraulic solution, we were able to address the application requirements," said Greenerd President, Tim Dining. "The new large-bed presses increase capacity and efficiency, and also provide the latest in operating safety features."

The hydraulic system on each press includes an auxiliary manifold and valves for operating specific cylinders within each tool. Pneumatic manifolds and valves were also supplied.

Additionally, the Greenerd TouchScreen control provides very flexible control options for a wide variety of applications. The TouchScreen Control stores over 100 jobs in on-board memory, so the operator can retrieve any previously run job with just a touch.

Operational safety is also a very important feature of the new presses. For example, the presses are guarded by a complete horizontal and vertical light curtain. In addition, perimeter guarding with Interlocks to the press controls are also incorporated into the design along with safety ram guards. Both presses are also equipped with a Serapid quick Die Change system, which allows the customer to handle dies and molds safely, ergonomically and efficiently. Heavy duty die lift rails were also mounted in the bed of each press along with four hydraulic lever clamps mounted on the moving platen for clamping the tooling.

About Greenerd

Founded in New England in 1883, Greenerd has designed and built thousands of high-quality custom and standard hydraulic presses since 1934. Machines include an extensive line of Hydraulic Presses in all sizes and configurations. A complete line of Arbor Presses is also available. Greenerd Presses are made to withstand the rigors of around-the-clock production and deliver many years of service.

Greenerd Presses are available as standard machines or can be designed for custom applications by expert engineers with extensive application experience. For more information, contact Mr. Tom Lavoie at Greenerd. Phone number 800-877-9110, x 251, or e-mail tlavoie@greenerd.com.