NASHUA, NH U.S.A. (December 15, 2009) – Greenerd Press & Machine Company, Inc. announced today they have recently delivered and installed three massive 4,000-ton Gib-Guided hydraulic compression molding presses to Ashley Industrial Molding, a processor of sheet molding compound located in Oelwein, Iowa. The presses, which feature Allen Bradley controls, provide comprehensive feedback and control over the entire production process, which allows Ashley to improve part quality, reduce cycle times and expand their business.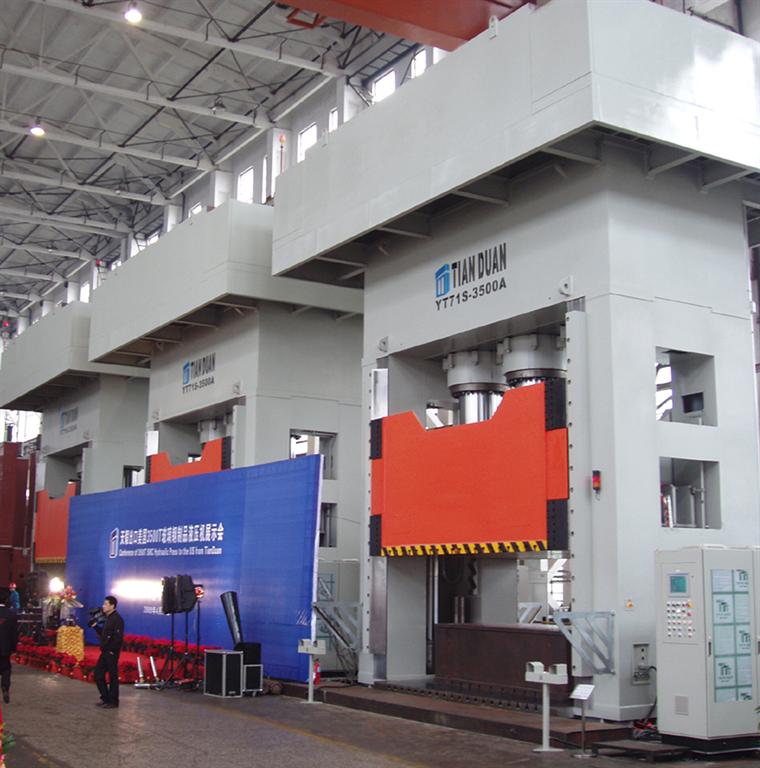 The 4,000-ton compression molding machines were built in Tianjin, China, by Tianjin Tianduan Press Co. Ltd, with whom Greenerd has an exclusive North American alliance. Each combined frame Gib-Guided press weighs about 500 metric tons and was assembled using quality American-made parts that were imported to China from the U.S. for the press' vital operational components. The giant presses tower 34 feet above and 11 feet below the shop floor. They are the largest compression molding machines Greenerd has ever delivered, the biggest presses that Ashley has operated and possibly the largest compression molding press installation in North America.



(Three 4,000-ton compression molding machines)


The machines feature Allen Bradley® Industrial PC Versa View 6181P-12TPXPH with Win XP Software with touch screen controls that provide recipe storage, trending, diagnostics and EtherNet communication. The controls allow the operator to access feedback on each part in a run, troubleshoot any problems and adjust tonnages and speed as necessary, identify the most efficient way to produce a part and reduce cycle times. The controls also provide Ashley with something they've never had before – the ability to serialize each part, which opened up new business opportunities for the company. In addition, the Ethernet communication will allow Ashley to monitor production in its Iowa plant from its Indiana headquarters.
"We are extremely pleased about this project," said Mr. Tim Dining, President of Greenerd Press & Machine Company, Inc. "I am proud to say we met the challenge through every phase, from design through to production and installation, which is a testament to our large press capabilities."
From China to Iowa, Not an Easy Trip
Delivering the massive presses was indeed a logistical challenge. After they were disassembled in China, the hydraulic presses took up 60 percent of an ocean freighter. They were then shipped on three barges up the Mississippi River from New Orleans to Dubuque, Iowa, where they were delivered to Oelwein on 53 semi-trailer truck loads. They were then re-assembled and installed onsite by Greenerd technicians.
"I couldn't be more pleased with how this purchase and delivery went," commented Scott Pflughoeft, Vice President of Manufacturing at Ashley. "Greenerd had all three presses assembled, installed and in production in just 60 days. They stayed on site fine-tuning the programming and making adjustments until everything was running smoothly. "
Ashley Industrial Molding
Ashley Industrial Molding (AIM) is a custom molder and painter of plastic products and assemblies. AIM is a leading manufacturer of quality SMC compression molded and RIM processed components for the agricultural, industrial, construction, forestry and military markets. Ashley is dedicated to continuous improvement, including safety, quality, and delivery; to meet and exceed customers expectations.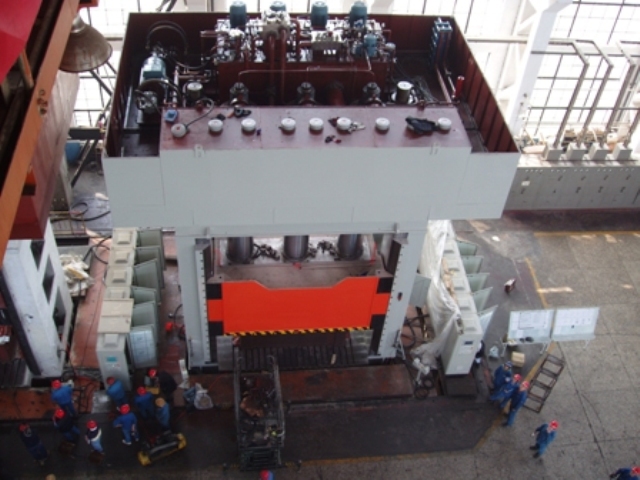 Greenerd Press and Machine Company Inc.
Greenerd is the sole representative for sales, marketing, service and installation of Tianduan product in North America. Founded in New England in 1883, Greenerd has designed and built thousands of high-quality custom and standard hydraulic presses since 1934. Machines include an extensive line of Hydraulic Presses in all sizes and configurations. A complete line of Arbor Presses is also available. Greenerd Presses are made to withstand the rigors of around-the-clock production and deliver many years of service.
(Top Of one 4,000-ton press)

Greenerd Presses are available as standard machines or can be designed for custom applications by expert engineers with extensive application experience. For more information contact Tom Lavoie at Greenerd. Phone number 800-877-9110, x 251, or email tlavoie@greenerd.com or visit their new web site at www.greenerd.com.