NASHUA, NH U.S.A.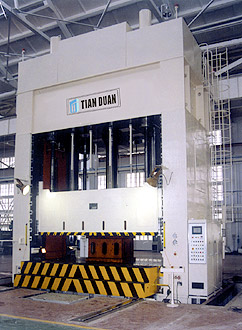 Recently, Greenerd Press & Machine Company, Inc. (FABTECH Booth #20017) has significantly expanded their product range by developing an alliance with Tianjin Tianduan Press Co., Ltd., the first and largest hydraulic press builder in China. The alliance broadens Greenerd's product capability to 10,000 tons, bed sizes exceeding 240" (6100 mm), and a variety of styles including die spotting / tryout presses.
The die spotting / tryout presses, used primarily in the automotive industry, are equipped with a precise micro adjustment feature for accurate depth control when die blueing. Motorized rolling bolsters allow for fast, efficient die changes and easy access for press maintenance. Optional booking rams are also available and allow easy access to the upper die or mold.
Additional Greenerd press styles include gap frame, straight-side and forging presses. The entire product line will be supported by Greenerd and will remain designed and built to ANSI B-11.2 1995 (R-2000) for the US market. Tianduan also builds presses to meet the CE standard.
Greenerd is the sole representative for sales, marketing, service and installation of Tianduan product in North America. Greenerd will continue to design and build their existing product lines in their Nashua, NH facility, while expanding the variety of press types and tonnages with their Asian partner.
The Greenerd product line now includes Gap Frame Presses to 1,000 tons, Four-Post Presses with beds to 240" wide and 10,000 tons, Straight-Side Presses to 10,000 tons and Die-Spotting Presses with either rolling bolsters or booking rams.
Founded in New England in 1883, Greenerd has designed and built thousands of high-quality custom and standard hydraulic presses since 1934. Machines include an extensive line of Hydraulic Presses in all sizes and configurations. A complete line of Arbor Presses is also available. Greenerd Presses are made to withstand the rigors of around-the-clock production and deliver many years of service.
Greenerd Presses are available as standard machines or can be designed for custom applications by expert engineers with extensive application experience. For more information, contact Mr. Tom Lavoie at Greenerd. Phone number 800-877-9110, x 251, or e-mail tlavoie@greenerd.com.