NASHUA, NH U.S.A.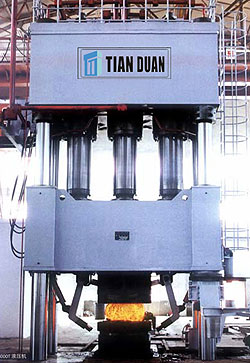 Greenerd Press & Machine Company, Inc. has introduced a new series of hydraulic presses for a wide variety of forging applications, including automotive and truck; aerospace; agricultural; industrial, hardware and tools; and surgical instruments. This press series is manufactured by Tianjin Tianduan Press Company in China. It is marketed and serviced in North America by Greenerd. Producing over 1,000 hydraulic presses in 2006 alone, Tianjin Tianduan Press Company is one of the leading press builders in Asia.
The new series of presses can be used for both hot and cold forging applications and can be built to specification up to 10,000 ton capacity to suit a broad range of forging requirements. The presses are designed to run at high speeds for rapid cycling of the press ram, which means they are well-suited for the most demanding production schedules. The presses also come equipped with auto load and unload mechanical arms, which reduce the need for the operator to be near the work zone, eliminating the hazards associated with handling the heated blanks.
With a Multi Hit Cycle feature, the presses can be programmed for multiple hits of any individual blank to maximize forged part production. Their pit-mounted press beds keep the press bolsters at a convenient height for the press operators. In addition, a touch screen operator panel allows hundreds of programs to be stored in the press control. This enables the press operator to change programs in just seconds and ensures that parts are produced precisely the same way each time they are run.
Greenerd Press & Machine Company, Inc. has steadily increased both bed size and tonnage range for its hydraulic presses produced in Nashua, NH. In the past three years, the company has shipped 4-post presses with 144" x 48" and 150" x 64" bed sizes and multiple presses exceeding 100,000 # in weight. Greenerd press designs remain highly reliable in rigorous production environments.
Founded in New England in 1883, Greenerd has designed and built thousands of high-quality custom and standard hydraulic presses since 1934. Machines include an extensive line of Hydraulic Presses in all sizes and configurations. A complete line of Arbor Presses is also available. Greenerd Presses are made to withstand the rigors of around-the-clock production and deliver many years of service.
Greenerd Presses are available as standard machines or can be designed for custom applications by expert engineers with extensive application experience. For more information, contact Mr. Tom Lavoie at Greenerd. Phone number 800-877-9110, x 251, or e-mail tlavoie@greenerd.com.