NASHUA, NH U.S.A.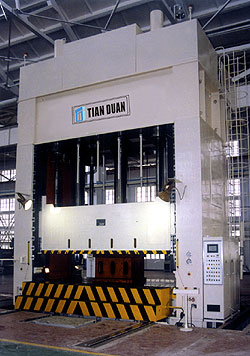 Greenerd Press & Machine Company, Inc. has announced the addition of die spotting/tryout presses to their significantly expanded hydraulic press line. The die spotting/tryout presses, used primarily in the automotive industry, are now available in a variety of configurations in tonnages up to 10,000 tons and bed sizes exceeding 240" (6100 mm). This press series is manufactured by Tianjin Tianduan Press Company in China. It is marketed and serviced in North America by Greenerd. Producing over 1,000 hydraulic presses in 2006 alone, Tianjin Tianduan Press Company is one of the leading press builders in Asia.
The die spotting/tryout press line is equipped with a precise micro adjustment feature for accurate depth control when die blueing. Motorized rolling bolsters meet ANSI B11.2-1995 R-2000 standards and provide for fast, efficient die changes and easy access for press maintenance. Optional booking rams are also available and allow easy access to the underside of the top die mold.
The presses come fully equipped with knockout and eject capabilities, which make removing a part or material from the dies effortless. Four-corner leveling also ensures accurate, consistent thickness for each part. Custom daylight and stroke design provides a press that works best for each customer's specific application.
In addition, a touch screen operator panel allows hundreds of programs to be stored in the press control. This enables the press operator to change programs in just seconds and ensures that parts are produced precisely the same way each time they are run. The control features and displays can be customized to meet specific user requirements.
Founded in New England in 1883, Greenerd has designed and built thousands of high-quality custom and standard hydraulic presses since 1934. Machines include an extensive line of Hydraulic Presses in all sizes and configurations. A complete line of Arbor Presses is also available. Greenerd Presses are made to withstand the rigors of around-the-clock production and deliver many years of service.
Greenerd Presses are available as standard machines or can be designed for custom applications by expert engineers with extensive application experience. For more information, contact Mr. Tom Lavoie at Greenerd. Phone number 800-877-9110, x 251, or e-mail tlavoie@greenerd.com.