NASHUA, NH U.S.A.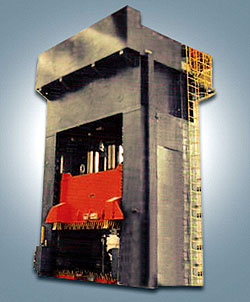 Greenerd Press & Machine Company, Inc. has announced they have expanded their compression molding press line with increased tonnage capabilities up to 10,000 tons and bed sizes exceeding 240". The expansive series of presses is well-suited for a variety of compression molding applications, from automotive to electrical components, housewares and appliances.
Greenerd's compression molding series features their proven 4-Post design, which minimizes deflection and "lean back" common in many C-frame presses and ensures exceptional and consistent die alignment. It also enables loading of the press from any of four sides and permits easy integration into production lines or manufacturing cells. A gib-guided slide easily withstands the demands of large dies and progressive dies that require off-center loading. Gibs are extra long and square at four tubular corners, which provide more accurate slide guiding and offer front-to-rear and side-to-side adjustment to maintain slide parallelism to the bed.
All Greenerd presses are ANSI B11R.2-1995 R-2000 compliant for maximum operator safety and productivity. The compression molding series features a unique de-gassing cycle that evacuates gasses from the mold while the part is curing, which relieves pressure inside the mold and ensures the highest part quality. Four corner leveling also guarantees accurate, consistent thickness for each part.
In addition, a touch screen operator panel allows hundreds of programs to be stored in the press control. This enables the press operator to change programs in just seconds and ensures that parts are produced precisely the same way each time they are run. The control features and displays can be customized to meet specific user requirements.
Founded in New England in 1883, Greenerd has designed and built thousands of high-quality custom and standard hydraulic presses since 1934. Machines include an extensive line of Hydraulic Presses in all sizes and configurations. A complete line of Arbor Presses is also available. Greenerd Presses are made to withstand the rigors of around-the-clock production and deliver many years of service.
Greenerd Presses are available as standard machines or can be designed for custom applications by expert engineers with extensive application experience. For more information contact Mr. Tom Lavoie at Greenerd. Phone number 800-877-9110, x 251, or e-mail tlavoie@greenerd.com.