Search Hydraulic Presses By:


---

Search Arbor Presses By:


Stamping Battery Substrates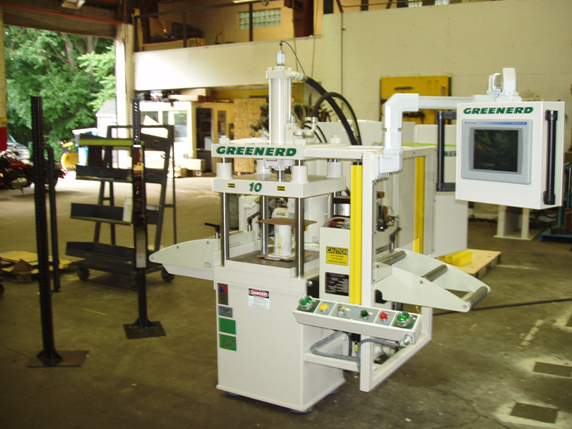 SPECIFICATIONS FOR MODEL # 4D-10-18 x 20-12L3


Force
Adjustable 2 to 10 tons
Work Area: Left to Right between posts
18"
Work Area: Front to Back overall
20"
Overall width, left to right
36"
Overall height
Approximately 96"
Column diameter
2.0"
Clearance between columns front to back
14"
Daylight = Maximum Open Distance
18"

Note: "Shut Height" = Daylight Less Maximum Stroke

Stroke
Adjustable to maximum
Cylinder Bore Diameter
3.25"
Ram Diameter
2"
Bed to floor height
34"
Motor Capacity
5 HP, 1800 RPM
Pump capacity
12 & 3 GPM
Hydraulic System
Double Pump
Reservoir Capacity
33 Gallons Minimum
Maximum System Pressure
2410 PSI
Ram Speed: Close, inches per minute in run (or auto) mode
418
Press, inches per minute in run (or auto) mode
84
Open, inches per minute in run (or auto) mode
672
Application Information:

This press is being used by a Battery Manufacturer to stamp out substrates for the battery electrodes. Greenerd integrated a CWP Feed. Feed unit is set to run a 4" long feed upon receiving a signal from the press on the upstroke of the press ram. The Touchscreen allows the operator/setup person to program in the height at which the punch will clear the lower die allowing for the feed to actuate before the ram returns to the top stop. This way as soon as we receive a feed complete signal, the main ram immediately reverses and comes down to stamp out the part. Running a 5/8" stroke on the press and a 4" feed from the feed allowed us to achieve 80 Strokes Per Minute.



Features:

Touchscreen – Full 10" Allen-Bradley Panelview Plus 1000 Touchscreen for setting all press and feed parameters. The Touchscreen allows for one stop programming for job setup along with the capacity to store each job individually. Up to 70-program storage standard, however, this capacity can be increased per customer request.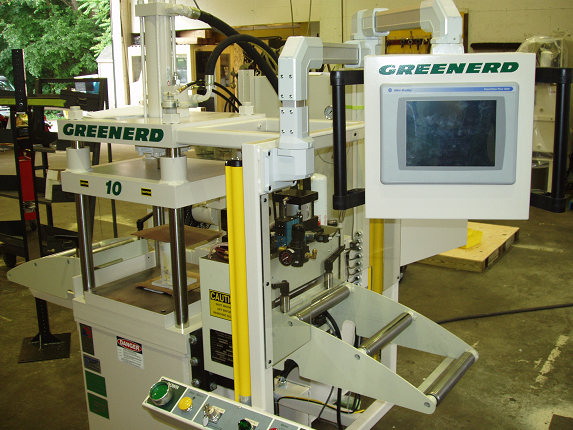 Light Curtain with Mirrors – On this application, it was difficult to get the guarding where required. Upon discussions with the customer, we decided on using a Light Curtain with Stand-alone Mirrors. You will notice them mounted on the Black Uprights that will be secured to the floor in the customer plant during installation. This allowed the work zone to be free from brackets for the mirrors.