Showroom - Punching
Punching of Round Jet Engine Cowlings
Greenerd's customer required a press for punching a series of holes around the circumference of a Jet Engine Cowling. Greenerd designed a press with a Horn extension in place of a bed, which allowed the part to be indexed around it when punching so that the operator simply needed to move it from position to position with a very small tool mounted on the Horn. Greenerd supplied both a 9" diameter and 6" diameter horn for varying sizes of Cowlings.
Press Specifications:
| | |
| --- | --- |
| Model # | HRN-60-30R14 |
| Tons of Ram Force | Adjustable from 12 to 60 |
| Horns (Removable) | 6" and 9" diameters |
| Daylight | 12" |
| Stroke | 8" |
| Floor to centerline of Horn | 42" |
| Guiding System | Two-Post Guided |
| Ram Speeds: | |
| Rapid Advance | 517 IPM (Inches Per Minute) |
| Pressing | 84 IPM |
| Rapid Return | 539 IPM |
| Motor HP | 30 |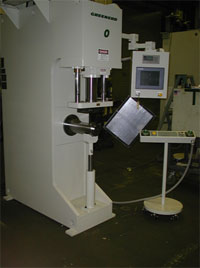 The press was also equipped with our Touchscreen control panel, which allows the customer to store up to 150 different programs for the various parts they produce in the press control. This enables the press operator to change programs in just seconds and ensures that parts are produced precisely the same way each time they are run. Greenerd also built in a Bar Code Reader to allow the operator to simply scan the next component to be punched, directing the Touchscreen control to automatically upload the new parameters for that component.
A Die Shank Adaptor Plate was also incorporated into the design to allow the press to accept dies with shanks on them. Many companies today still use older tooling that was designed around a Mechanical press and want to keep the same configuration. Greenerd's Die Shank Adaptor Plate gives them the ability to use these tools on the hydraulic press without impacting their performance on a Mechanical press.
This press can be adapted as a multi-use press with Greenerd's removable Horn Jack attachment. When using the Horn only, the Jack Attachment is removed from under the Horn. When additional support is neeeded, the Jack Attachment is reattached to press. See photo below for view of Horn Jack Attachment and Moving Platen mounted Die Shank Adaptor Plate.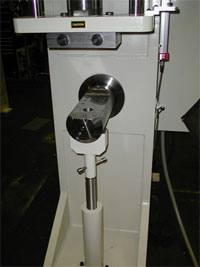 For application assistance on your project, please don't hesitate to contact Greenerd at 1-800-877-9110. We can help you find a solution to your problem.
Click here to learn about Stamping Battery Substrates!