Engineering
Greenerd Press & Machine offers engineering services to custom fit presses to your application.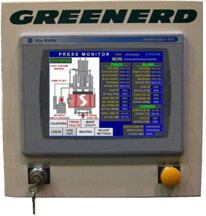 Retrofits / Upgrades
Our retrofit / upgrade services will help keep your Greenerd press up-to-date and running at peek performance. Customers use these services on their presses to:
Upgrade to the current ANSI B11-2 standards for safety
Built in speed control for handling hard to form/press materials and increasing cycle rates
Add closed loop pressure and distance control
Improve accuracy and repeatability
Integrate automation components (robotics, feeders, etc)
Add the "ease of use" and accuracy of touch screen controls with recipe storage
Build in the latest technology
Rebuilds
Our rebuild services allow our customers to change out existing hydraulic, mechanical, and electrical components for new, up-to-date, components. After a Greenerd rebuild our customers benefit from decreased down time, improved parts quality, increased production rates, lower power consumption, and a boost in operator confidence.
Some of the most popular rebuilds we perform include:
Replacing old complex piping/valve systems with a single, consolidated, easy to trouble shoot manifold system.
Replacing or rebuilding pumps and motors
Replacing leaky hydraulic pipe thread technology with Oil Ring Seals (ORS and SAE)
Rewiring electrical systems
Rebuilding cylinders
Replacing worn out platen guides/slides
Stripping down and repainting surfaces
Replacing ram gland rings and seals
Total refurbishing to make like new again
We have the flexibility to perform these rebuilds at the customer's site or at our facility located in Nashua, New Hampshire. Whether you are looking to rebuild part or all of a Greenerd press, you will want it done right the first time. Who better to rebuild a Greenerd press than Greenerd.

Here is one example of how a rebuild can transform your press.
Greenerd Hydraulics
Our subsidiary Greenerd Hydraulics, offers many other engineering services that can be found here: http://www.greenerd.com/services/greenerd-hydraulics.